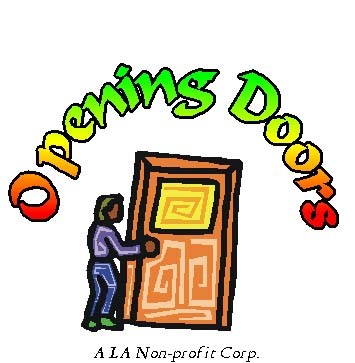 Opening Doors, a non-profit organization formed in March 2001 by members of St. John's United Methodist Church, is a ministry providing programs and services to families in the Gardere community and surrounding areas.
Our focus is on giving low-income families and their children educational opportunities that are otherwise not available to them and that may have a positive impact on their lives. Church members and/or interested parties are invited to join in this ministry.
Opening Doors has a Board of Directors of about 15 active members. The board includes a resident of the Gardere area as well as a member of the Mayor's Staff. We have no paid staff, and we rely on volunteers to execute the programs.
Our mission statement is "to provide a way for individuals and families in the Gardere Community to improve their quality of life through a partnership of Opening Doors with members of the community to develop educational, vocational, health and referral services that will meet identified needs of the community."
Learn more about our programs and our donors.
Donate to Opening Doors via PayPal. Payments are secured through PayPal's online giving site. We appreciate your financial support.